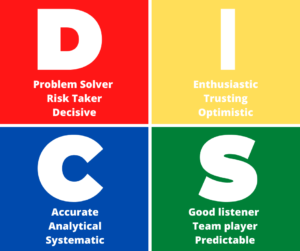 SOMETHING NEW FROM DESERT SOUNDS OF WELLNESS
Did you know that according to a recent survey of 1,000 employees, 91% said their leaders lack communication skills? 
Hey!  It's been a while.  How are you holding up these days?  We couldn't wait to share with you something new we've added to Desert Sounds of Wellness .  We are now helping people talk to each other.  We mean REALLY talk.  Without screaming or running away.
We are now certified in DISC.  No, not a Frisbee.  DISC is a way of finding out who we are, and how we can better communicate.  There's a whole science to it that's been around for ages.  The reason is:  it's proven to work for:
Employees
Managers
Spouses
Significant others
Families as a whole
Kids
Adolescents
Churches
Turns out, we all have four unique personality traits that fall into these categories:
Dominance
Influence
Steadiness
Conscientiousness
DISC has been tested and used for decades.  We can be one, or two, or all four of these traits all mixed up.  Who knew?  Then, you find out who you're talking with about their four traits, along with some approaches we will teach you, put it all together and BOOM.
CRAZY. GOOD. COMMUNICATION.
It's not tough for you to learn these secrets.  It's all on us.  All you have to do is show up to get a skill that you will have for life.
If you have employees, business partners, significant others, teenagers who roll their eyes, or any other human that gives you a blank stare, this is for you.
Oh, and turns out, it's ridiculously good for business.  What's that worth?
Check out our new website:    www.desertsoundsofwellness.com
We can give you a brief introductory, half-day training, a full-day class or individual coaching.  You will walk away knowing so much more about good communication than you ever knew existed.  We did!
And don't worry – we are still doing music therapy and lessons!   ALWAYS.
Check out the DISC workshops and coaching  by clicking HERE:
www.desertsoundsofwellness.com/workshops
See you soon!